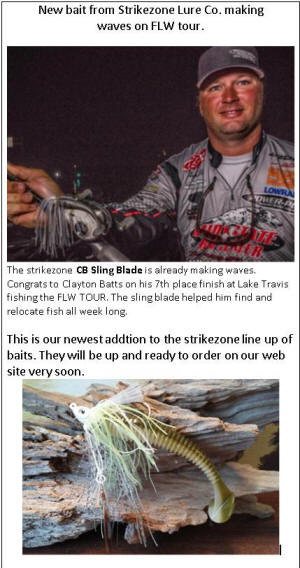 Strikezone Lure Co. is home to the legendary "Ledgebuster" Spinnerbaits. We are located on beautiful Lake Eufaula ( Walter F. George Reservoir ) in Eufaula, Alabama. We manufacture and build many exciting products for the fishing industry. Among our products are a variety of spinnerbaits that include the Ledgebuster, Edgebuster, Master Blaster and the new V-Blade & Ghost Blade spinnerbaits. Our products are well known throughout the bass fishing tournament world and have helped produce many large wins in major bass tournaments. We are included in several pro bass fishermen sponsorships, one of whom is Woo Daves, 2000 BassMasters Classic Champion. Here is what Woo has to say about Strikezone Lure Co.
.....another innovative company run by a fisherman who is always striving to make something better. The Edgebuster and Ledgebuster Series of spinnerbaits are the finest on the market. Top quality components and colors make them unbeatable. I used the 1/2 oz Ledgebuster to catch five smallmouth weighing 24 lbs. to help me win last year's B.A.S.S. Angler of Year on the East Division. Another neat product that they have is the Woo Daves Pocket Knocker and lure retriever which works like a charm.
Strikezone Lure Co. has been in the lure making business since 1991 and we are currently introducing several new products, all of which are made in the United States with quality components from manufacturers such as Mustad, Gamakatsu, and Sampo. Please take time to browse all of our listed products and if you have any comments please click the contact link and send us your message. We would love to hear from you!!
---
NEW FOR 2018 SEASON - CHECK IT OUT

---
CHECK OUT THE NEW STRIKEZONE PRO SERIES POPP'N FROGS



YOU CAN'T BEAT THESE PRICES