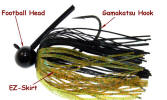 The Perfect Jig Football Series is available in twenty-five fish catching colors!
The Football Series is equipped with a Gamakatsu hook and the patented EZ-Skirt. It is available in four sizes: 3/8oz., 1/2oz., 3/4oz. and 1oz. This jig is excellent for fishing deeper structure; the football style head will stand up on the bottom allowing for better hookups. This style jig is priced at $2.99 for all sizes.
Choose your favorite style, size, and color and click add to cart.